In unserem Urlaub in der Bretagne haben wir quasi täglich Gesalzenen Karamell Aufstrich gegessen – eine lokale Leckerei. Allerdings ist ein gekauftes Glas nicht ganz günstig, wie das meistens mit gekauften Köstlichkeiten ist. Deshalb haben wir beschlossen es kurzerhand selber zu machen. Ein super schönes Geschenk auch zu Weihnachten aus der Kategorie "essbare Geschenke"…
on the menu: Karamellaufstrich mit Meersalz
Zutaten
600 g Zucker
250 g Butter
360 ml Sahne
1 gr. Prise Meersalz
5 mittelgroße sterilisierte Gläser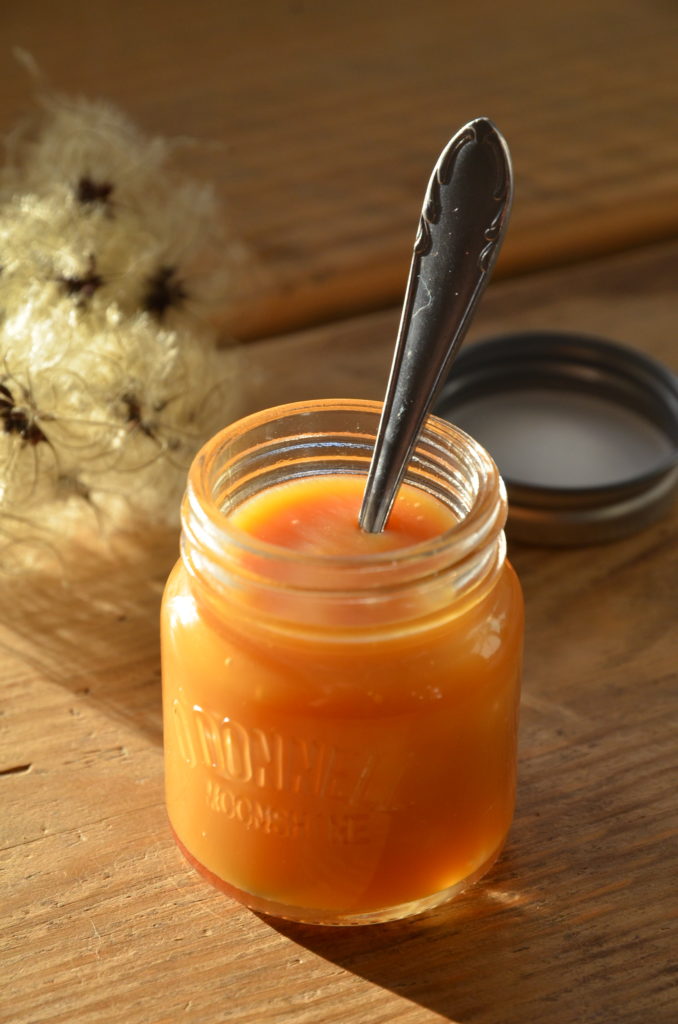 Zubereitung
Im ersten Schritt sterilisiert ihr eure Gläschen. Dann könnt ihr mit der Herstellung der Karamellcreme beginnen: Hierfür gebt ihr zuerst den Zucker in einen weiten Topf. Er wird bei mittlerer Hitze erwärmt. Vermeidet es zu rühren, damit der Zucker nicht kristallisiert und verklumpt. Er soll langsam schmelzen. Wenn er weitestgehend geschmolzen ist, könnt ihr anfangen zu rühren. Sobald er goldbraun ist, kommt die Butter und eine ordentliche Prise Salz dazu. Die Butter haben wir vorher in Würfel geschnitten, damit sie sich schneller auflöst. Ihr müsst sie gut unterrühren, bis eine homogene Masse entstanden ist. Dann kommt der Topf vom Herd und ihr gebt nach und nach noch die Sahne dazu. Danach noch einmal sprudelnd köcheln lassen, damit die Masse etwas eindickt. Abfüllen in die Gläschen. Abkühlen lassen. Fertig zum Genießen. Wir haben die Gläschen dann direkt in den Kühlschrank gestellt, weil wir uns nicht sicher sind, ob sie ungekühlt halten.
Tatsächlich ist die Karamell-Herstellung ein Job für Erwachsene. Die Masse ähnelt ein bisschen geschmolzener Lava und sollte erst im abgekühlten Zustand in die Nähe von Kiddies kommen 😉 Seid bitte vorsichtig!!!
Fazit: Der Aufstrich hat definitiv Suchtpotential. Wir erwischen uns immer wieder mit dem Löffel in der Hand in der Nähe des Kühlschranks, wo der Vorrat lagert 😉
++++++++++++++++++++++++++++++++++++++++++++++++++++++++++++
For all our lovely insta followers the English version is a bonus. We r sorry for any mistakes. It's sadly still not our mother tongue. Maybe next time, u will be fluent in German and this will not be necessary anymore 😉
ingredients
600 g white sugar
250 g butter
360 ml single cream
1 healthy pinch of sea salt
5 medium size sterilised jars
preparation
First of all, sterilise your jars. After that u can start with the salted caramel sauce. Put the sugar in a sauce pan or a frying pan on medium heat. Whatever u choose the pan should be wide and high. Don't stir the sugar. It should start to melt slowly. If u stir it could crystallise and clump together. We don't want that! If most of the sugar is melted u can start stirring. As soon as it gets a golden brown colour u add the butter and sea salt. We cut the butter into cubes before. It helps it to melt more quickly. Keep stirring till everything is well combined. Your product should be nice and smooth. Take the pan of the heat and add the single cream slowly. After that we put our pan back onto the heat and let it bubble away for a while to thicken. Put the sauce into your jars. Leave to cool and enjoy. Easy peasy! We stored our jars in the fridge because we didn't know if the keep very long without cooling.